Clock is ticking. Soon the New Years will be here. But before it happens, let's take a moment to revisit CuteCoconut in 2012.
2012 opened with full of hope. I was at the top of my spirit, running toward my goal to make this a successful blog. We just settled in a new country and it was a new beginning all the way. I had just started my wonderful journey with Mom Blog Society and was in fire. But unfortunately the fun was short lived because I had been cut out of internet connection for quite so long. What can you expect after moving between two country?
And then in the middle of this year we were again moving out, this time back to our home country. Once again I was out of the game. Until recently I finally find my grip back and ready steady to welcome 2013.
I did score some paid gigs from my blog either within the blog (post, ad space, etc.) or offline but related to my blogging world. However it hasn't been as big as I want it to be hence the strive continues.
This year I also managed to bring several giveaways to the table and found some more inspiring bloggers ever! Please allow me to have the pleasure to appreciate these bloggers who have been more than an inspiration for me to continue blogging and produce more and better content in 2012: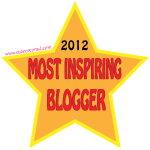 Pamela Maynard at Mom Does Reviews
LaDona Dennis, founder of Mom Blog Society
Dominique at Dominique's Desk
Theresa at Theresa's Mixed Nuts
Richard at The Butterbottom Blog
Maureen at Scoops of Joy
Jess at Essentially Jess
Maya at Morning Raindrops
Diana at Hot, Chocolate and Mint
Bebe at a Memory Bliss
Crissy at Dear Crissy
Toward the end of 2012 I have also met new blog friends and I can't wait to have more fun with them in 2013
Now, coming on to my resolutions for 2013….
To be honest with you I am one of those who don't have a faith for resolutions. In my opinion resolutions are just like some rules, and rules are meant to be broken. Or aren't they?
But that was last year. From time to time I used to write resolutions until one day I realized I was never able to keep up with it. By mid of January I already forgot half of my resolutions and when January ended, so did my resolutions history.
What makes a difference now?
Now I have a red alarm ringing in my ear. I am not 30 anymore. That was some two years ago and I see my life goals have only been half achieved.
I haven't been an established writer. Almost every year for the past three years I have said to myself "this year I am going to write a book". Never happened. Until couple weeks ago, when I took the courage to self-published my Saturday Mind series in a form of eBook called Mom Think Tank – a ballad of stay at home mom. I haven't gone big yet and one of my resolutions for 2013 is to properly launch this book.
Personally, my resolutions in 2013 are to be a better and slimmer mom, wife and person.
Professionally, my resolutions in 2013 are everything about being an established blogger and eBook writer. And here is the list:
1. Introduce my Newsletter and get 500 subscribers
2. Produce better and more structured contents
3. Increase my blog statistics by 50% in all area
4. Start selling my eBook
5. Guest post on other blog once a month
6. Grow my FRONT hop
What are your resolutions for 2013? If you have written a post about it please link up here. Otherwise you can shoot it out on my comment field.
*Some of the resolutions will be featured on my first Newsletter in January 2013. If you haven't subscribed please do so HERE. Don't worry, it won't stuff your inbox, I promise!