Ever since I learned that my Facebook page visibility won't necessarily increase as the likes increase I have become more diligent to interact using my page. I have worked so hard to get to that number (and still am working on increasing it) I feel it's not fair if I get so little visibility rates regardless whatever updates I put on my feed. This feeling sadly strengthened by my findings when I did Facebook-walking, pages with 4000 likes only get 155 views!
FRONT hop was initially meant solely to increase the Facebook page visibility rate but I decided to add more sugar to it. The more the merrier. Therefore starting this week onwards you can add your blog and Facebook page too in addition to your Facebook page post link. Let's get more followers, let's increase our Facebook page visibility rates and above all, let's connect!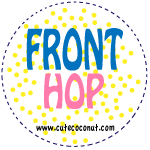 Rules:
1. You must follow the host and co-host (if any).
2. Add your blog url, Facebook page url and your preferred Facebook page post update url to the provided form below.
3. Follow each other.
4. You need to like or share or, even better, to comment on others' Facebook page post updates.
Notes:
1. I am looking for co-host. If you are interested please contact me here.
2. If you are a business owner wants to sponsor this hop please contact me here.
Now, let's hop!