When I first creating my Facebook page the intention has been always about to connect to people out there, especially fellow bloggers and/or readers who appreciate my blog. Getting liked by more and more people is definitely rewarding and I am very proud of myself to be able to get there. Although it is still a long journey for me to get to 10,000 likes but I am enjoying every sweat I work on it. However, the truth is getting our Facebook page liked is only a half of the journey. Why? Because apparently Facebook doesn't give you free ride that easily. Will you be surprised if I tell you that despite thousands of fans out there who like your page it is only valued around 9 – 17%? Have you ever noticed that despite thousands of fans your posts are only seen by maybe 45 to 50 people? I have the way to increase your Facebook page post visibility so that more and more of your fans can actually find that post and view it.
You see I did my homework yesterday. If your post on your Facebook page doesn't get any like nor comment it decreases your page value. In order to get your posts visible to larger audience you need to have many likes and/or comments on those particular Facebook posts. The more you get likes, the more it is shared and receives comment the better chance it shows in your fans newsfeed and get viewed. Now of course to get those thing we need to work harder on what kind of thing we post in our page. Is it engaging, connecting and interesting, there are a whole list of conditions to apply to get there. But meanwhile, why don't we help each other and do this Facebook Reach Out Now Tuesday Hop?
The rules are simple:
1. You must have a Facebook page.
2. Add the URL link to your Facebook post that you want to boost up.
*click on the timestamp under your name on that particular post you will get the URL link on your browser. Copy that and paste it here.
3. Like or Share at least the three posts before you and the three posts after you.
4. Please be generous and leave a comment on those particular posts.
Because this is going to be regular, come back here every Tuesday and you can link up different post as you like
Also grab the FRONT Hop button below and put it on your side bar to help spread the word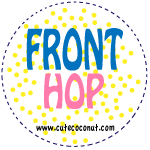 If you are interested to co-host this hop please contact me
here
.
Let's start hop-ing!