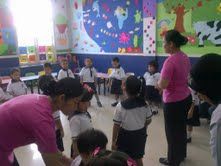 This week has been crazy for me. My 4 yrso started his school on Monday. I knew it wouldn't be a happy go lucky day. Some children act like angel who found heaven on their first day of school but in my case it was more like a hell. I knew it would be a tough day so I had prepared. Or so I thought.
That morning K was basically clinging on me and dragged me into the classroom. He didn't smile, refused to shake hand with his teacher and just stuck by my side. I tried to explain to him that mommy needed to stay outside the classroom but he just wouldn't understand. So I stayed the whole session. One thing that comforted me that I wasn't alone. There were three to four other children who acted that way.  And during that period of time we, the moms, sent each other understanding and supportive smile, or maybe it was actually a relieved smile for not being the only parent who was 'embarrassed'.
There were times when I tried to escape but unsuccessful as my son threw the worst tantrum ever. He cried, screamed and threw himself on the floor. Then he started to scratch and kick anyone stood near him. I felt like disappearing in the background whenever his tantrum began.
After a good face-to-face talk at home regarding his behavior in the classroom that day K did better on his second day. I could leave him half way and he was happy. But the tantrum was back on the next two days. By Friday I could again leave him half way and joined the mom 'clubs' at the school cafeteria to chit chat. That was the first time I was finally able to draw a smile in my face after daily battles with the body throwing, kicking, crying and screaming.
I spent the entire weekend doing furniture shopping for our new house. It was exhausting but fun. Moreover K has made a promise that Monday onwards he will never be afraid of school again and mommy can stay outside of the classroom.
Learning from the experience, I think there are at least 10 facts about First Days of School that moms need to know:
1. Never ever think that first few days of school are easy even when you child looks like very eager and excited about it. If you get it easy then you are lucky but always be prepared for the worst.
2. When your child is afraid and refuses to let you go from the classroom that's okay. It is completely normal and you should not feel bad about it.
3. Your trial to leave can make your child have a meltdown. Don't feel embarrassed about it because it's normal. Ignore the snob or judging look from other mother whose child was easier because that incident can not define who you are or who your child is. It doesn't mean that your child will be lesser brilliant than the other 'easy' children.
4. Having a good and sufficient sleep does make a different. So make sure your child have enough rest before school.
5. Always talk it through to evaluate the unacceptable behavior your child displayed during the class. It won't give an impact thoroughly on the first day but it will get you there timely.
6. It is recommended that you created the fuzz months before the school actually started to boost up your child mood and motivation about school.
7. When talking about school activity always talk like it is a happening and fun event.
8. Communicate with the teacher to find better solution that works for everybody.
9. Bribing is an easy way out but don't make it as a habit.
10. Never give up. Today you child probably scream and cry but tomorrow can be better. Put some faith and you will see it gets easier day by day.
How's your story with your children first days of school? Did you find it easy or troubling? Post about it and leave a comment here. I would love to read other mom's experience regarding this