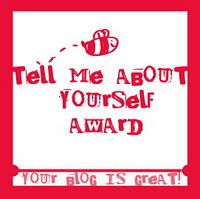 That was awesome! When Theresa from Theresa's Mixed Nuts dropped the news here I was happy and decided to participate. I mean who would not want to take a part when someone ask you to play along? I am not that aloof girl who would stand in the corner all alone watching everyone else playing. So hell ya! I am in!
Since Theresa didn't shoot the questions, I guess she would only like us to write the 7 things about ourselves. Hence I have been digging trying to find some 7 new things to put out to the table and here they are:
1. I just had the strangest meal I have ever had this week. It was a leek pie, something I picked up from Carrefour two days ago. I really had no idea what it was because everything was written in French. But before I put it in the oven I found a tiny label explaining the ingredients and in English it was called a Leek Pie, and yes it has tons of leek in it. Don't ask me how it was, because one thing for sure it was like you chewed tons of leek mixed with some cream.
2. Today since they open their eyes the boys haven't stopped fighting over their Thomas the Tank Engine toys. One would cry, the other would run with the toys and then after five minutes the situation reversed. The one who had run now was the one who cried and the one who cried now was the one who run. I felt like banging my head on the wall because their crying and whining had become an annoying faulty bell that kept ringing in my head. Aarrrgh!
3. My laundry is piling up again. I have kept it that way for the past four days. I have been cleaning the entire house but never have the 'feeling' to start doing them. What is it with this laundry thing?
4. I have painted my foot nail with neon green couple of days ago. It really didn't add any value to me nor to my leg. The color made my feet like Godzilla's, only scarier. Also there was something deceiving about neon color. You thought you have done it right, until you go under the sunlight and find out that it looks like someone has splashed the polish on to your nails. Trust me, it's not something you can be proud of.
5. I have been dreaming to have my own boutique. Well, maybe..someday..
6. Yesterday afternoon, in the middle of my starvation when I was busy making myself some lunch with grouching stomach, I popped in the living room and found the entire floor and the carpet was full of Coco Crunch, some were smashed and the boys were standing there looking proud of themselves. Now, if you were me what would you do?
7. I still can't lose my weight. Maybe if I start working out physically and not only in my dream, then I shed off some extra pounds. What do you think?
Right, so I am going to tag seven bloggers and like Theresa, I am not asking some questions but would like you to write 7 things about you. There is no need for you to play along if you don't wish to
Keeping up with The Cantelmo's